Rothkötter
truck workshop
Rothkötter
truck workshop
Rothkötter
truck workshop
Our truck workshop is located in the immediate vicinity of our Rothkötter compound feed plant at the Eurohafen in Haren.
Built in 2009 and expanded in 2013 and 2022, only trucks from our own fleet are repaired and maintained here.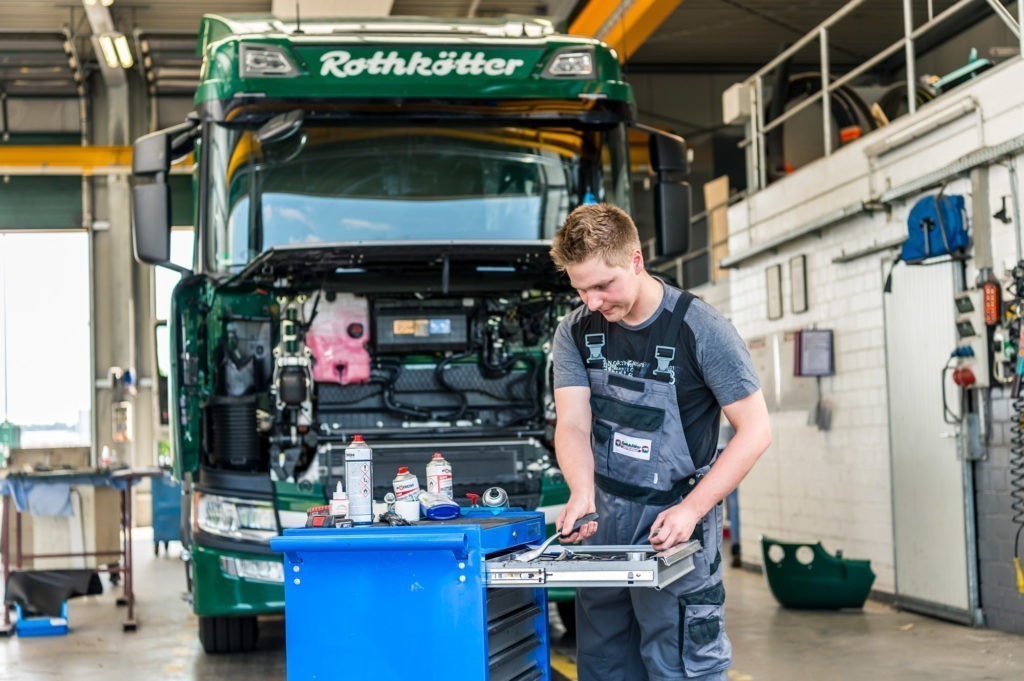 Appointments and repairs exclusively for the fleet
Maintenance/inspection of commercial vehicles and vehicle diagnostics
Scheduling with external workshops
Repair of all vehicle systems:

Engine and transmission
Diesel injection equipment
Exhaust aftertreatment
electronic braking systems
Air brake system
Vehicle electrics, etc.


Additional equipment for new vehicles (telematics, silo compressors, etc.)
Repairs to superstructures, tail lifts, hydraulic systems
Statutory inspections (safety testing, general inspection, accident prevention)
Repair and maintenance of transport refrigeration systems
Repairs to silo equipment
24-hour emergency service
Air conditioning service
Accident repairs
Tyre service
Werbas – workshop software (order, warehouse and appointment management, master data and fleet evaluation)
Texa multi-brand diagnostic software for all car/truck, trailer and brake system manufacturers
One test lane with brake test stand, play tester and certified light carport
Four repair lanes with pit and pit jack (expansion in planning)
Adjustment facility for advanced driver-assistance systems (front camera, front radar)
Service VW Crafter for outdoor assembly and breakdown service
Tyre changer, tyre balancing machine
OEM special tools and diagnostics
Special tools for trailer axles
Wabco diagnostic software
Wheel alignment system
Indoor crane